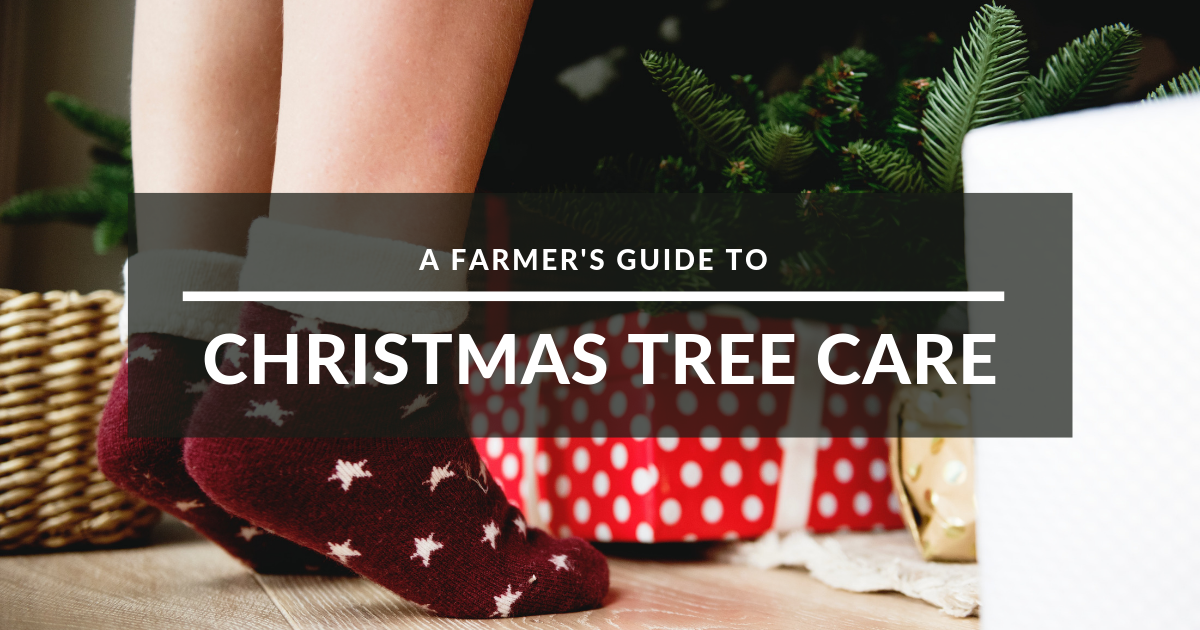 Most people love having a real Christmas tree. We love breathing in the fresh scent of pine, picking the specific tree we like, supporting local farmers, and more.
But one thing we don't love? Trying to keep the tree fresh through the holiday season.
Over the years, different sources have released advice for caring for a real Christmas tree in your home. Some of the tips work, and some don't.
As the ones who care for your tree from planting to harvest, we're answering top Christmas tree care questions to keep your tree looking as good as it did on the farm.
How often should I water my Christmas tree?
When you bring your tree home, it will drink at least a gallon of water a day in the first week.
Larger trees use more water, so choosing a tree stand with an adequate water capacity will keep you from frequent watering. In general, tree stands should hold one quart for every one inch in stem diameter. For your typical 7- to 8-foot Christmas tree, you will need a stand which holds 1.5 gallons.
With the right sized tree stand, you should check the water level at least once a day to make sure the stem is still submerged and absorbing water.
Will aspirin or sugar in the water keep my tree fresh longer?
While aspirin, sugar, and other additives won't harm your tree, they most likely won't help.
People use these DIY tree preservatives as an attempt to provide the tree with more nutrients, but we have no conclusive evidence that homemade or even commercial Christmas tree preservatives work any better than old-fashioned water.
Do you put hot water in a Christmas tree stand?
The temperature of the water isn't important in keeping a Christmas tree fresh.
According to plant pathologist Dr. Gary Chastagner and horticulturalist Dr. Eric Hinesley, "The temperature of the water used to fill the stand … does not affect water uptake."
Will drilling a hole in the trunk help my Christmas tree?
Drilling a hole in the base of the trunk doesn't improve water uptake. If your tree stand uses a "center pin," you will need a hole at the bottom of the stem to hold the tree in the stand. However, the claim that this will keep your tree fresh is still unproven.
Does the temperature of my house affect my tree's freshness?
If you keep your house warmer or place your tree near a heat source, this could speed up the drying process. Keep your tree away from fireplaces, heaters, heat vents, and direct sunlight and use miniature lights, which produce low heat, to maintain freshness for a longer period of time.
How long can a cut Christmas tree remain in the house?
Typically, a freshly cut tree will last 3 to 4 weeks indoors.
Buying your real Christmas tree from a lot with locally farmed trees is the best way to ensure freshness throughout the holiday season. Don't be afraid to ask the vendor where and when the tree was cut to find the freshest trees in your area!
What should I do with my tree after the holidays?
Real Christmas trees are biodegradable, and trees should be recycled after the holidays.
The City of Madison collects Christmas trees for recycling in early January. They simply ask you to follow a few simple guidelines:
Place trees at the street edge only
Remove and discard tree bags
Remove your tree stand, lights, and ornaments from the tree
Check the City of Madison website for this year's collection dates.
If you miss the collection dates or live outside of the collection zone, you can bring your tree to one of two drop-off sites for recycling:
Conclusion
Do you have any questions about caring for your real Christmas tree that we forgot to answer? Let us know in the comments!
Follow us on Facebook for more Christmas tree decoration and maintenance tips.