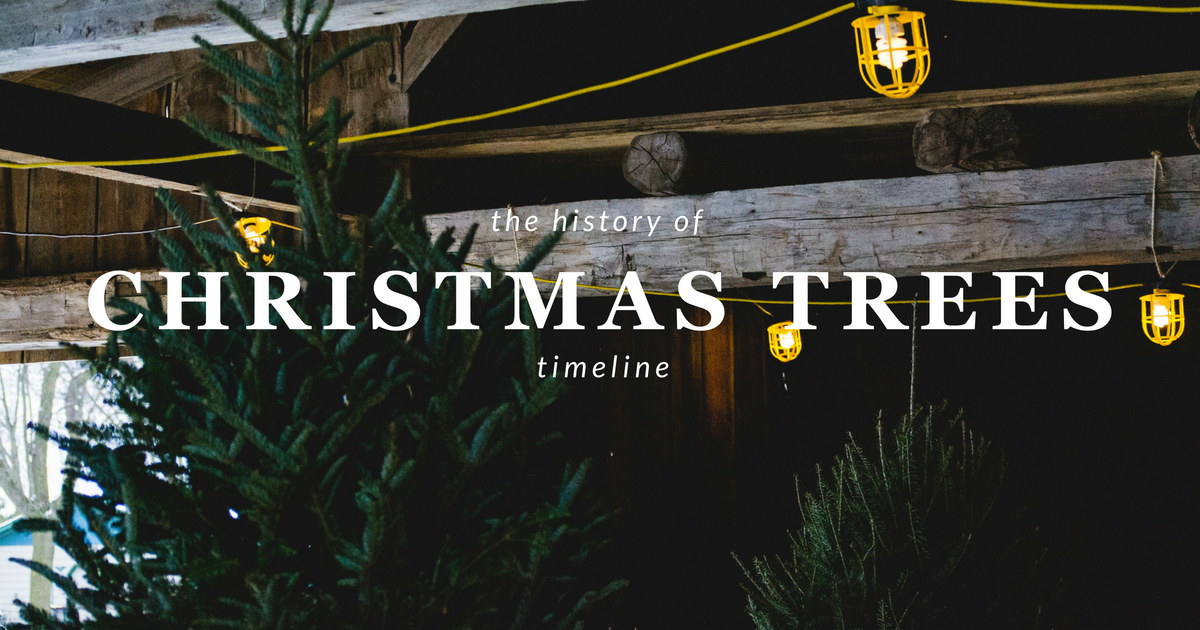 The tradition of Christmas trees began early in world history — even earlier than Christmas itself! In this post, we see how traditions have changed and what's stayed the same throughout the years.
Ancient History
Northern Hemisphere

Long before Christmas existed, ancient people found special meaning in evergreen trees, and they used pine, spruce, and fir trees and boughs to decorate their homes.

Many cultures used evergreens to celebrate the winter solstice – the shortest day and longest night of the year – on December 21st or 22nd. The green branches symbolized the sun starting to shine more, new plants growing, the triumph of life over death, or everlasting life.

1510
Latvia

The first written record of a fir tree decorated for Christmas is dated early in the 16th century. The tree was decorated with artificial roses, and people danced around it in the marketplace.

1500s
Germany

Many Christians began bringing decorated evergreen trees into their homes. Some others built pyramids out of wood and decorated them with branches and lights if trees were scarce.

1700s
Germany & Austria

People brought evergreen tips into the home and hung them from the ceiling. They decorated the branches with edible ornaments such as apples and nuts.

1700s
Canada

As German-American settlers moved North to Canada, they brought the Christmas tree and other Christmas traditions with them.

1747
Pennsylvania

German settlers in Pennsylvania decorated and displayed public Christmas trees in their communities. However, many American Christians saw the trees as a pagan symbol until the 1840s.

When the Puritans came to America, many believed festive Christmas customs were a disgrace to the sacredness of Christmas. In fact, in 1659, the General Court of Massachusetts enacted a law making any observance of December 25th, besides a church service, a penal offense, and settlers were fined for hanging decorations.

1846
Britain

A sketch of Queen Victoria and Prince Albert standing in front of a Christmas tree with their children appeared in Illustrated London News. The popularity of the Christmas tree skyrocketed in Britain, as well as the American East coast.

1850
United States

The first Christmas trees were sold commercially in America. These trees were chosen and cut at random from the woods.

Over 150 years later, tree farmers focus more on conservation, planting and cutting trees in nurseries and on farms instead of harvesting forests.

1850
Washington, D.C.

President Franklin Pierce displayed the first White House Christmas tree.

Early 1900s
United States

American's usually decorated their floor-to-ceiling Christmas trees with homemade ornaments. They dyed popcorn with bright colors and strung it into garland with berries and nuts.

1901
New Jersey

W.V. McGalliard planted 25,000 Norway spruce trees, making the first Christmas tree farm! Today, Christmas trees grow in every state in the U.S., including Hawaii and Alaska.

1923
Washington, D.C.

President Calvin Coolidge initiated the annual National Christmas Tree Lighting Ceremony on the White House lawn.

1930s
United States

When electricity became common in homes, people began decorating their Christmas trees with electric lights. Also at this time, displaying community trees in the town square became popular.

1931
New York City

Construction workers put the first Rockefeller Center Christmas tree on display. It was a small tree, without decorations, placed at the center of a construction site. In 1933, another tree is placed in the same spot, this time with lights.
Conclusion
Carry on the Christmas tree tradition by purchasing a real fir or pine tree this holiday season! For more Christmas tree facts, visit our Facebook page for informational videos.
Sources
The National Christmas Tree Association